Dealership and community Events

Murray GM enjoys being active in the community of Fort St. John, whether by raising funds and awareness for charities, or sponsoring local events.
Here's an overview of Murray GM participation in events on a national and local level.
February 2018
At Murray GM, hockey is a way of life! We're jazzed to be out on the ice in the Crystal Cup Pond Hockey Challenge on Charlie Lake!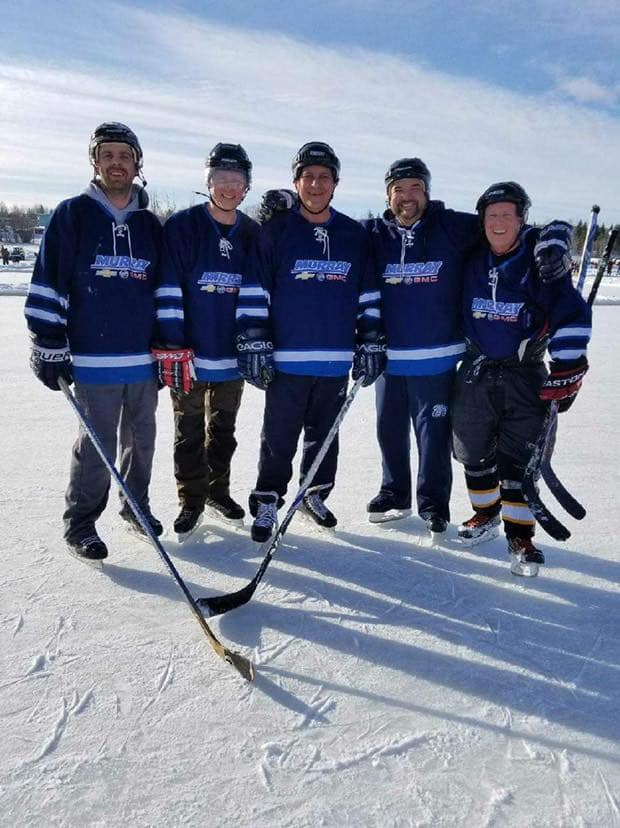 July 2017
The weekend of July 22-23 was a busy one for Fort St John! Both the 25th Annual Fort St John Airshow and the Fort St John Rodeo (back after a 12 year hiatus!) took place!
Murray GM was very proud to be a sponsor at both of the family events!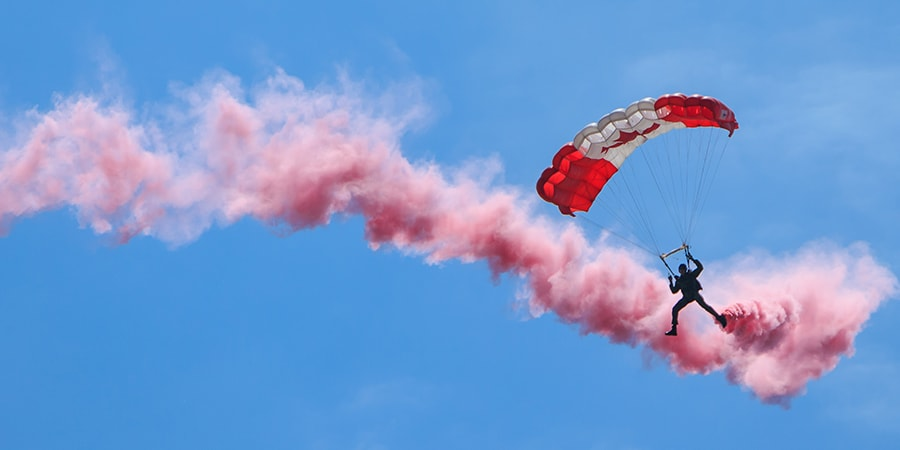 June 2017
Murray GM in partnership with 100.1 FM The Moose hosted the Hands on for a Camaro contest! 40 contestants were selected to compete for the chance to drive away with a brand new 2017 Chevrolet Camaro!
The contestants were required to stand for 48 hours touching the car with nothing but the palms of their hands! In the end, there were 4 remaining contestants. A random key selection meant that Kristie Mayer drove away in her new ride!
The 55th Annual Fort St John Oilmen's Association Golf Tournament proved to be exciting for one golfer. Manny Gairdner of Fort Nelson hit a hole-in-one on hole 10 and won a $25,000 credit at Murray GM!
Pictured below:
Murray GM General Manager Daniel Holtmann and Hole-in-One Winner Manny Gairdner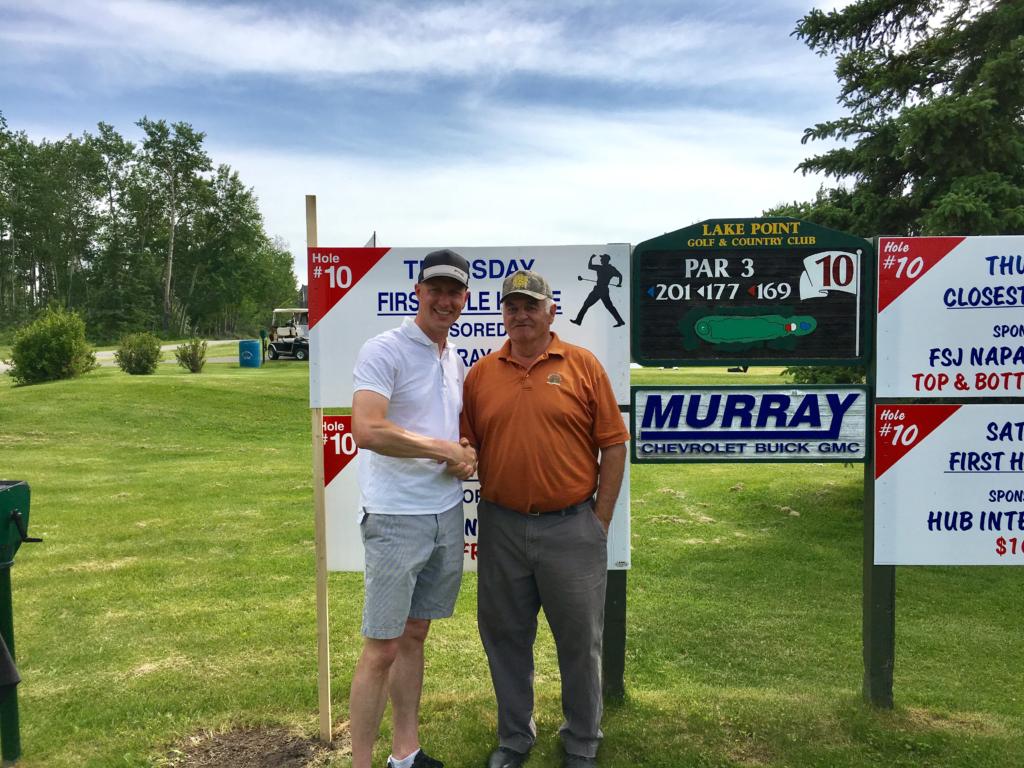 May 2017
The Rotary Club of Fort St John held their 6th Annual Mother's Day Run & Walk. As usual, it was a smashing success, and we at Murray GM are so proud to have been a part of it! The fields were a little muddy, but that didn't stop anyone from showing up, running, and enjoying the beautiful sun that came out!
September 2016
Along with Moose FM and other community sponsors, we hosted an event we called 'Hands on for a Cruze'! We selected 30 contestants to sit at the Mall for 2 days touching a brand new 2016 Cruze. Everyone who stopped touching the vehicle was eliminated and we were down to 5 people left at the end!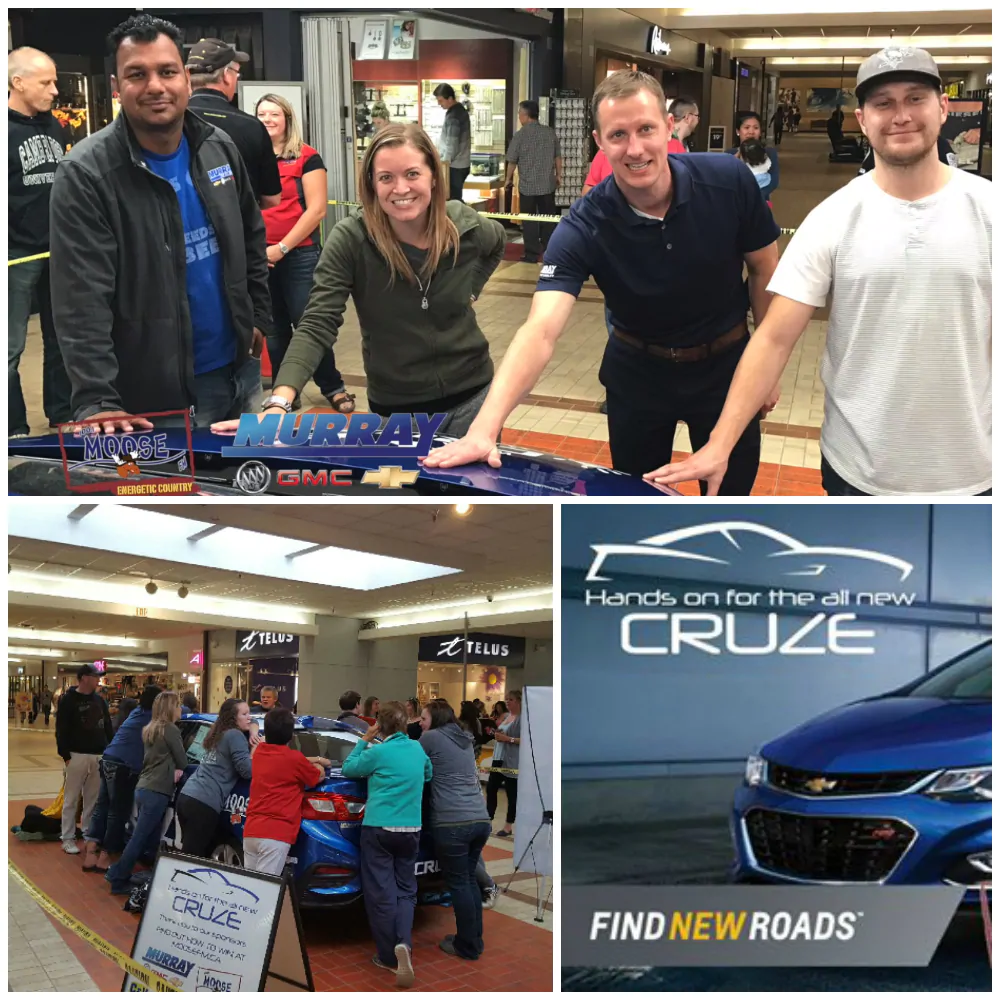 November 2015
Together, the staff of Murray GM and the students of North Peace Secondary School hosted a Buick Test Drive For Your Students event that took place at our local high school on the 28th. For every person who came out to test drive a vehicle, Buick donated $20 to the Basketball Teams, Volleyball Team, and Avid class. We raised over $4,000!
June 2015
We'd like to congratulate our hard working staff on receiving these 2015 General Motor Guild Awards! We're proud to have such dedicated staff in all departments of our dealership.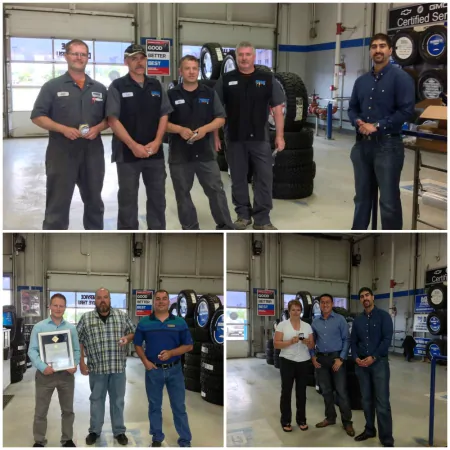 February 2015
For the 3rd year in a row, Murray GM is proud to have hosted 'Love Your Pet Month'. Raising $785 and a truck full of items requested by the North Peace SPCA. We'd like to thank all our fantastic customers who helped us raise money for our local animals.
2014 COMMUNITY NEWS
---
August 2014
This August Murray GM participated in Chevrolet's "Safe & Fun Hockey Program" by offering free hockey helmets to children registered in Minor Hockey, born in the year 2009. We loved helping out all our little hockey stars!
February 2014
We did it again. Murray GM hosts "Love Your Pet Month," for the second year in a row. We filled up our trusty 2014 Silverado with wish list items for our local North Peace BC SPCA. We also raised $1000 for the local shelter! Check out our Facebook page for up to date information www.facebook.com/murraygmfsj
March 2014
Clark Lang is selected for the Community Driver Award! One of the things that Murray GM prides themselves on is community involvement. Our very own Clark Lang was selected for the Community Driver Award. This award was developed to recognize BC Automotive Dealerships that exemplify business strength and community excellence - with a significant focus on making a tangible contribution to the growth of livability of their community or region. Congratulations to Clark and Judy Lang for making such a positive impact to our community through Murray GM!
2013 COMMUNITY NEWS
---
February 2013
Becoming a Murray tradition! February is "Love Your Pet Month!" For the month of February Murray GM donates wish list items to the local BSPCA. Along with a cash donation of $1000! Check out our Facebook page for more information www.facebook.com/murraygmfsj Last year we raised $1000 dollars for the local BSPCA, and donated a truckload of wish list items to our local shelter.
March 2013
March Madness! Our Facebook followers enjoyed "Wednesday Give Away!"
April 2013
April 2013 was Burn Fund Month. $10 from the sale of each vehicle sold went towards the British Columbia Professional Fire Fighters' Burn Fund. In addition, each person who purchased a new vehicle in the Month of April was entered into a draw to receive a Ladder Ride at the Local Fort St. John Fire Department. The Dietz family were our lucky winners!
June 2013
Our Service Department are the Murray Crusaders. Watch for us at the Relay for Life! Last year we raised a phenomenal $2010.00 dollars! We are very proud of our service department!
August 2013
Visit us each year for information on the "Chevrolet Safe & Fun Hockey Program."
October 2013 Trick or Treat @ Murray GM!

We had a great turn out of little ghouls and goblins! Everyone had a great time getting some candy, and judging our pumpkins. The Sales Department (#4) was the lucky winner!
November 2013
Murray GM is a 2nd year Mo Bro! Each year we've been getting a little hairy for a great cause!
December 2013
The Giving Tree
For the Month of December, Murray GM set up The Giving Tree. The tree was decorated with wish list items for The Women's Resource Society. The generosity of both our staff and customers was phenomenal. We ended up getting enough items to fill the back of our Chevrolet Spark!